The Macallen Building is a 140-unit South Boston condo development that achieved Gold LEED Certification (Green) after its launch in the Summer of 2007.  While there have been several other LEED certified condominium developments that have opened since the Macallen, it was the Macallen that was the first condo development in all of Boston to achieve such a high LEED certification.
Some may know, others may not, the Macallen represents the second phase of the Court Square Press buildout.  The Court Square Press building is located immediately adjacent to the Macallen, and was a 130 unit condo development that saw the repurposing of a historical commercial building along with incremental add-on development and was completed in 2002.
The Macallen is a full service luxury condominium development that is the forerunner in green residential buildings across the city of Boston and is equipped with an outdoor heated pool on an 18,000 square foot plaza, garage parking, and a viewing / entertainment room, and fitness center (in Court Square Press).
Macallen Building Condos for Sale
The Macallen Building, Boston's first Gold LEED certified condo development, offers a stocked lineup of amenities, from a heated lap pool, to screening room with adjacent kitchen / bath for private parties, high-end fitness center, and 24-hour concierge.
Given the size of the Macallen, 140 condos, it's quite typical that there are multiple condos available for sale or rent in the building at any one time.  Macallen and Court Square Press residents share amenities across their buildings, both have individual concierge on staff, however, the pool, screening and party room, outdoor grills, and the garage are actually in the Macallen itself, while the only join amenity in the Court Square Press building is the fitness center – residents of either development are welcome to use all the amenities in both buildings.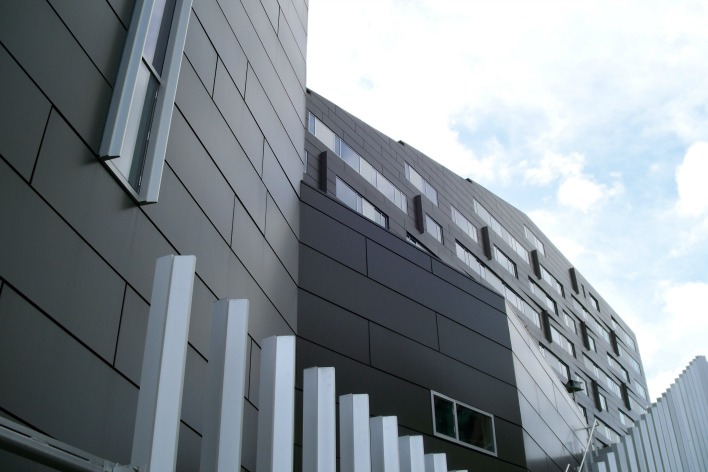 Is the Macallen Building Better than Allele or Lofts at 36 A?
By far, the Macallen Building has the best amenities in South Boston. The caliber of living experience offered at the Macallen is arguably unparalleled.
Nonetheless, there are two other condo developments immediately across the street from the Macallen Building and Court Square Press. Those are the Allele building and the Lofts at 36 A.
Both are newer than the Macallen, and offer their own features and benefits, from the unique architecture and small outdoor space with each unit at the Allele, to some of the coolest polished concrete floors and walls of glass at the Lofts at 36 A. Both are substantially smaller than the Macallen and offer a more intimate condo living experience.